Print/Press
Research, Web design, Print, Collaboration | 2018
Print/Press, a calendar for 2019, was produced as a research project for the PublishingLab in collaboration with
Oliver Barstow
, which aims to profile recent digital developments in digital printing. 12 artists, including Oliver and myself, were invited to each design a page for a given month. Each contributor produced 12 variations for each month on the shared theme of 'Personalisation' in today's data driven economy.
For my contribution for the month of December, I used my family's collection of passports; uniform documents that define who is a citizen and what rights they have to cross borders. The passport doesn't belong to the bearer, rather to the state. This calendar month shows captivating detailed patterns from various canceled passports of different nations and of specific time frames from the 1940s onwards. The information stated on each of these passports reduces the bearer to numbers and generic descriptions. The identity photograph of the bearer remains one of the most personal elements, but the hardest one to see: printed with invisble ink only to be seen with UV light. Thankfully the bearer of the calendar can 'personalise' the following page by filling in the blanks!
To see all versions of our 2019 calendar visit
pressprint.press
.
The project was supported by
PublishingLab
and launched at
De Mosterkamer
in Amsterdam.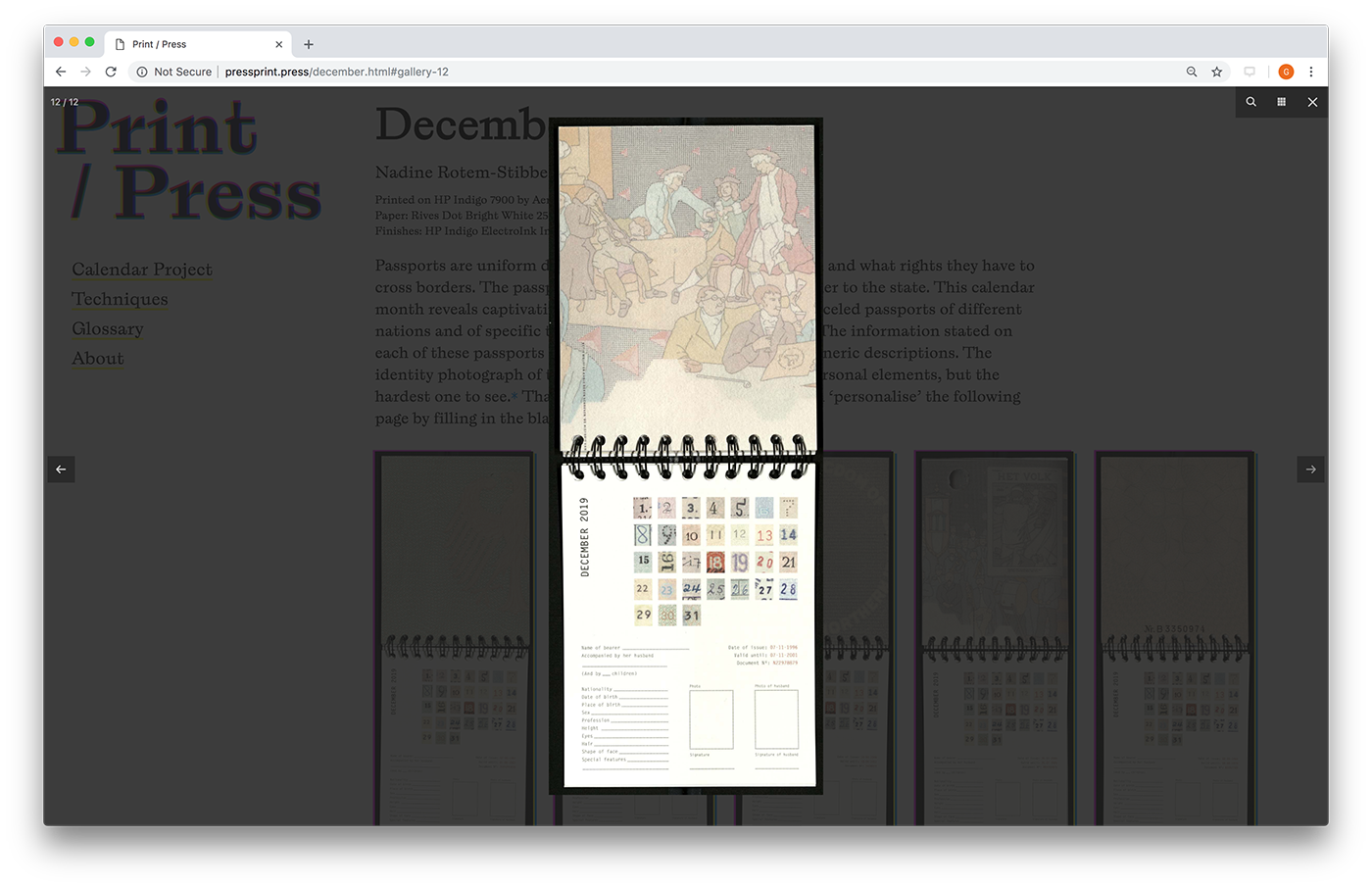 Contribution in the order of months from:
Oliver Barstow, João Roxo, Carla Saunders, Karina Zavidova, Juan Pablo Mejía, Anastasia Kubrak, Loïc Drussel-Martzolf, Imad Gebrayel, Cristina Cochior, Anna Michalak, Théo Goedert, Nadine Rotem-Stibbe.